To estimate your financial Health Economics Case for your facility based on using the TubeClear System, please use the following…
How the TubeClear System Can Save You Time
In a Bench Top Study, the TubeClear System showed the average time to clear an NE tube was just 8.8 minutes compared to 110.3 and 121.9 minutes for warm water and enzyme treatments, respectively. Download the TubeClear System datasheet to see the efficacy comparison.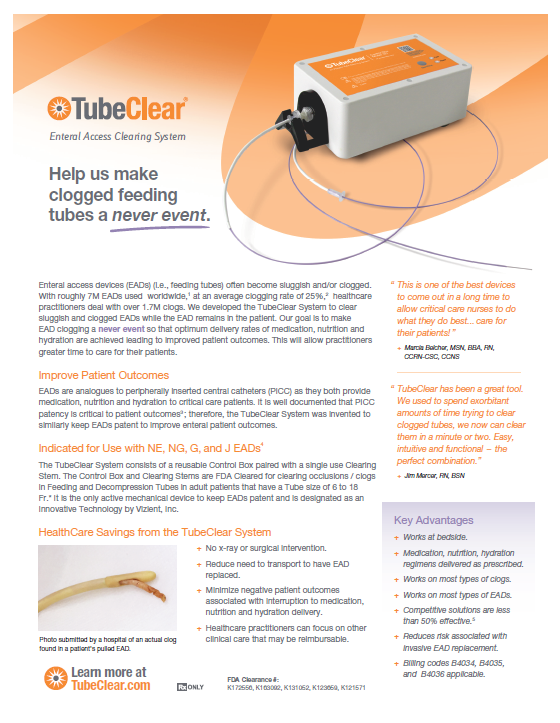 The TubeClear System Datasheet
How the TubeClear System Worked at Bedside – A Clinical Usage Case Study
The TubeClear System, which uses a mechanical method to clear clogged feeding tubes, is comprised of a reusable Control Box and single use Clearing Stem. It has been used in multiple patients documented in a case study. Download our available Case Study to see the results.
The TubeClear System Case Study
How the TubeClear System Improves Patient Outcomes

When used correctly, the TubeClear System improves patient outcomes by increasing Tube patency for medication or nutritional administration, minimizing the need to transport patients, and reducing the number of painful Tube replacements.  Download the comprehensive TubeClear System Value Analysis Packet to learn more.
The TubeClear System Value Analysis Packet
Payer policies will vary and should be verified prior to treatment for limitations on diagnosis, coding or site of service requirements. The coding options listed are commonly used codes and are not intended to be an all-inclusive list. We recommend consulting your relevant manuals for appropriate coding options. This information is presented for illustrative purposes only and does not constitute reimbursement or legal advice.
Tube Clear, Inc. encourages providers to submit accurate and appropriate claims for services. It is always the provider's responsibility to determine medical necessity, the proper site for delivery of any services and to submit appropriate codes, charges, and modifies for services that are rendered. Tube Clear, Inc. recommends that you consults with your payers, reimbursements specialists and/or legal counsel regarding coding, coverage and reimbursement matters.